This is a fantastic opportunity, not just for homeschoolers, but for kids of any age.
We have gone to the 2015 Splash in Princeton University, and it was an amazing experience.  The kids got to spend a day at the University taking a variety of classes.  The classes were taught by undergraduate students.  They were able to sign up for quite a number of classes, as long as it was within the right time.  The variety of classes taught was truly astounding.  From art to physics, and so much in between, there was something there for everyone.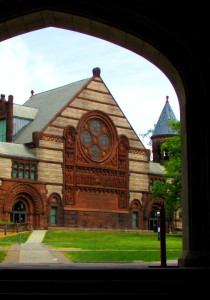 The kids that can attend the Princeton Splash Event are supposed to be of a high-school age.  At that time our kids were on the younger spectrum of high-school, and I, personally, felt better knowing that they were there together with a friend.  Turns out that there were many other homeschooled kids there that they knew, so it worked out very well.  It is a whole day affair (last one was from 9 am to 4 pm) with a lunch break, so it's better to be prepared with a sandwich and water.
The entire event was organized to the very last detail.  The students checked in, got a map and a schedule.  Right at the beginning they were able to buy a lunch pass and a t-shirt.  Then they walked off to class.  Our kids enjoyed the entire experience tremendously.  We picked them up at 4 pm and that was that.
More about Princeton Splash And Other Splash Events
What:
Splash is usually a one to two day event taught by undergraduate students of the university in question. There is a multitude of classes to choose from.
Who:
Kids in high-school can attend most splash events, though some universities allow kids as early as 7th grade to attend.  Other universities also have created events for middle-school kids, like "Spark" at MIT or "Sprout" at Yale.
When:
Various universities throughout the country offer the event at various times of year.  The one in Princeton and Cornell were held in April, the one in MIT is in November,  Yale held theirs in July.  You would need to check the university you're interested in on their website.
Where:
Many universities offer the event for kids.  Among them are Princeton, Yale, NYU, Cornell, MIT, Columbia.   There are many more though, so be sure to check locally in the university that you are interested in.
How:
You would need to go to the link of the university you are interested in and pre-register.  There is usually a nominal fee for the day.  Pick the classes you want.  We're including some links you might find useful below:
This WEBSITE has current Splash programs listed throughout the country.
Here are the Splash Event pages for several schools:
Has your child attended a Splash or Spark Event? We would love to hear what you thought of the experience?