A second or even a third language can be an amazing asset to anyone. However, learning a whole other language can be a tricky thing. The easiest way would be to move to a community that speaks mostly in that language and learn there, but as we all know, that is not always an option. So what do we do? We find other resources and use them consistently. Here are some of our foreign language resources for homeschoolers (or anyone that wants to learn another language) that we have tried and liked.
Actually, there are quite a few different programs and books to look at and try. My family has tried the ones I talk about here. The kids are learning Russian, and at some point they were learning Spanish as well. I am working on my Spanish at the moment.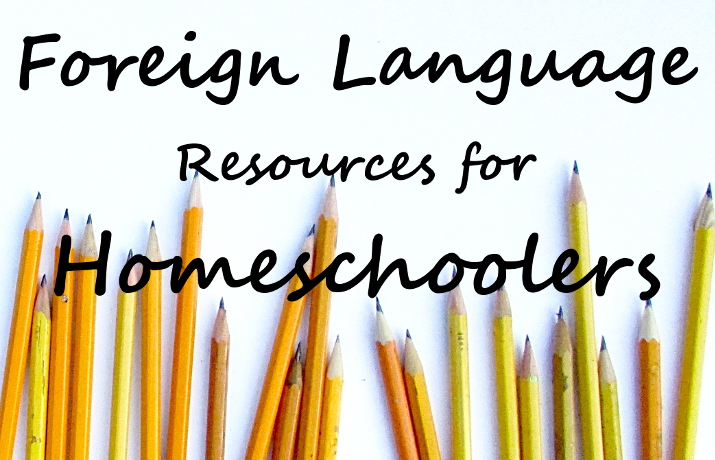 ***This page includes affiliate links.***
Here are some of the resources that we have used and enjoyed in the past.
Foreign Language Resources for Homeschoolers
Duolingo App! I cannot say enough good things about this app! It is fantastic. I love the Spanish lessons that I do daily, and my kids are doing fantastic with Russian. Russian can be tricky, as a lot of programs deal with business lingo, and not conversational fun language, which is what the kids would want. Duolingo provides just that: conversational Russian in a fun and easy to absorb way. We all love it! I use the app on my phone. The kids use a tablet, and you can also use your computer as well. They have a wide variety of languages.
Mango Languages: We have tried Mango Languages through our library's website. It is available on the computer and through the Mango Languages app on the tablet. If your library offers it, you create a sign in using your library card. If it is not offered through your library you could bring it to their attention, or sign up for Mango on your own (it is $20.00 for you and 5 students a month). We did enjoy it, and at some point will go back to it and use it to re-enforce our knowledge.
Rosetta Stone: Update: Rosetta Stone is now available through our library. It is a bit of a pain to get access to, and after trying it, I think I'd go with a different program, it is just not for us. I have tried Rosetta Stone. My oldest has as well. It was a great program, but unfortunately not something I could afford at the time. Now, I probably wouldn't invest into it, simply because there are so many great resources available without such a hefty price tag.   I do know that they have sales often, and many people do take advantage of that. When I get through all the other programs, and feel like I need more, I will invest into it. Maybe as a birthday present.
Living Languages: Living Languages complete course comes with three textbooks, 3 workbooks and 9 CDs. The price is not bad, under $30.00 for the course. I bought both Spanish and Russian. We got through the first textbook, and do use the CDs especially when in the car. The plan is to continue using Living Languages. One thing it has that the other programs lack is having to physically write in the language you are learning. It most definitely is a great place to start and not a purchase I regret.
I have also used several textbooks, books, and workbooks over the years. None of them really stuck. As homeschoolers we are often self-driven, and if the book is not clicking quite right, we move on to another resource that fits our learning style better rather quickly.
Here are a few more online resources that are free to use. We have not tried them, but hope to in the future.
More Resources
Also, be sure to check out this awesome infographic on how to learn any language in a step by step process by the team at UpgradedPoints.com.