How often do we hear the words: "I want to start homeschooling but I don't know where to start."? If you find yourself in that spot, then these few suggestions are a good starting poing. Homeschooling: where to begin?
***This page contains affiliate/sponsored links.***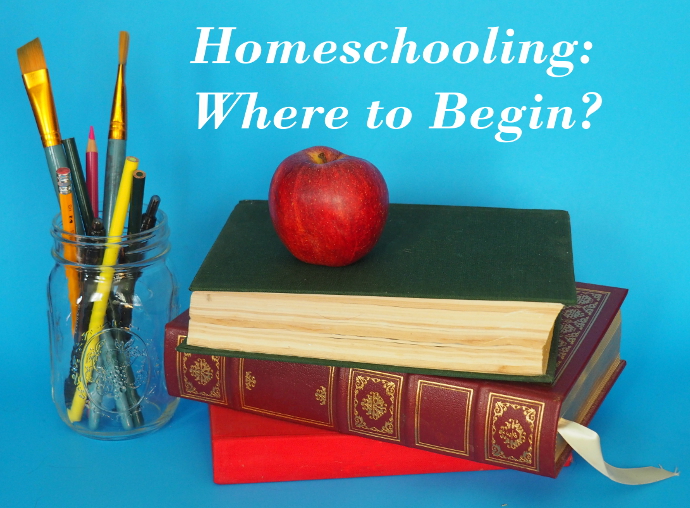 1. Check the law.
Each state is different when it comes to the law on homeschooling. Some are relaxed, others have strict rules you have to follow. None of them are un-doable. Just follow the rules laid out by your state step by step.  A good place to begin investigating the law in your state is the HSLDA website.
If you are pulling out of school, don't forget about the importance of 'deschooling'. Take some time to unwind from school.  See what your kid prefers to do outside of a strict school schedule.
2. Talk to your child.
You know them best. How do they like to learn? What do they want to learn? How do you want to approach it. Do you think a curriculum would be better? You can start researching which curriculum you would like, but don't spend a lot of money on it until you feel confident that that will work best for you and your family. There are lots of free curriculum available online (EasyPeasy comes to mind), and many curriculum that you pay for will let you have a trial to see if it works for you. Personally, I tried a curriculum when my son was young, and dropped it quickly enough. I prefer to piece it together subject by subject and follow a more free approach. It was an expensive thing, to buy a curriculum and then abandon it so quickly. I would not do that again, and don't recommend it.
3. Don't panic and reach for the flotation device.
Metaphorically speaking, of course. If you are not sure about #2, go to the library and take a bunch of books out on subjects your kid finds interesting. Read books, go to museums, watch documentaries and play games while you figure it out. Most importantly enjoy yourself, and enjoy being in the company of your kid. Don't stress out, it will all work out.
4. Find a support group.
I remember homeschooling when support groups were mostly on yahoo groups, and meeting people was not always easy. Now there is Facebook, meetup, and so much more. Find a group, go to an event, visit a park. The choices are limitless.  It might not happen immediately. You might not find your tribe right away, but keep at it. Keep coming, keep showing up and talking to people. I am a big proponent of the 'keep showing up' idea, look here to see how I feel about it.
Talking to other parents who are knee deep in homeschooling in person is very helpful when you are starting out. I am speaking from experience. If you are in NJ, check out our list of NJ Online Support Groups.
5. Don't be afraid to let go.
Let go of things that do not work for you and your family. Of the curriculum that didn't work out for your kid. Let go of things that make you frustrated on this journey, and try something new.
Some further reading:
Here's What Beginning Homeschoolers Should Do First by Susan from Homeschool With Love. Actually, her entire website is quite awesome. I highly recommend you check it out.
The Truth About Deschooling That Will Blow Your Mind from Educated Adventures. My friend Heather wrote a fantastic article on deschooling. What it is and why it is so important.
Homeschooling a young one? Check out this great article: A Homeschool Curriculum for Preschool and Kindergarten by Lillian Jones.
Raising Royalty has a lot of excellent advice for those starting to homeschool.
HSLDA for lots of great info on homeschooling in your state.  There is also the Let's Get Started: An Interview With Vicky Bentley. They actually have a ton of resources on their site, so I recommend you take a look: Toddlers to Tweens, as well as homeschooling through High School.
10 Things Every New Homeschool Mom Should Know from The Homeschool Collective
I also like this one a lot, it addresses some of the questions that parents of a very young child may have. Excellent read for those with a young child: Everything You Need To Homeschool Preschool by Life Led Homeschool.
Here a few things you will see here that you might find helpful as well:
There are lots of books out there on the topic. Here are a few that have been recommended to me by several different people.
***This page contains affiliate links.***
102 Top Homeschool Picks by Cathy Duffy
Home Education by Charlotte Mason
Well Trained Mind by Susan Bauer
Do you have any advice for those starting out? Or maybe a resource you found helpful? Leave us a comment!