Stone Soup has been a tradition for many years now. It is a wonderful get together that happens once a year in November, at the Watchung Reservation. More specifically at the Sky Top Picnic Area in Watchung Reservation (right off the Sky Top Drive by Sierra Trail). You can find it in Google Maps if you look for Watchung Reservation and then look for the Sky Top Drive. You will see the picnic area West of Glenside Avenue right on Sky Top Drive.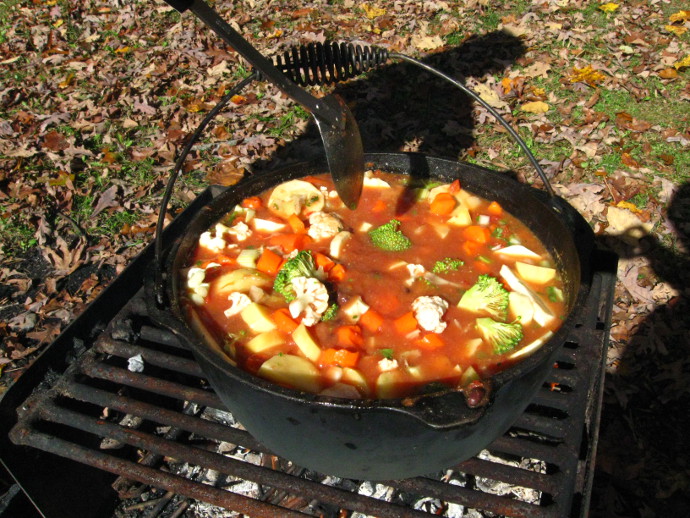 ***This page contains affiliate links***
Stone Soup for Homeschoolers
It has always been one of my favorite events, where everyone is welcome! It is a potluck. Everyone brings a dish or an ingredient for the soup and we make Stone Soup, just like from the story. (If you have never ever heard of the Stone Soup tale, make sure to check it out of your library!).  The children find three stones, and they are deposited into the soup pot. Then every family adds an ingredient. Soon enough the soup is bubbling in a multitude of delicious flavors and colors.  Everyone enjoys the beautiful nature around, delicious food, and the kids play nearby in the reservation. It really is an all inclusive, unifying, welcoming, and just overall fun event that truly reflects the heart beat of the New Jersey homeschoolers in a beautiful way. We come together in the forest to embrace our community, celebrate our diversity, and offer gratitude for the support, love and friendship that we offer to each other through the years.
There are usually two soups being cooked on a fire, both are vegetarian, and one is gluten free.
This years Stone Soup Gathering is coming up this Friday, October 13, 2017, from 11 to 3 pm.
Come one, come all!
If you decide to join the Gathering here are some thoughts on what to bring with you and what to consider:
An ingredient for the soup, chopping board, a cutting tool (if you feel like you need it).
A food item to complement the stone soup to eat and share. Something to drink as well.
A game to share: Frisbee, soccer, volleyball, board games, etc.
Dishes and utensils for your family to eat with, and possibly to share.
A blanket to sit out on. There are picnic tables and benches, but many kids enjoy sitting on the ground.
Keep in mind that the kids love playing in the forest nearby. Be prepared to get messy, really messy! Don't wear your grandma's wedding gown to this event, unless you really really want to!
Am I forgetting something? If so, comment below.