What's Happening: News and Updates for April 2016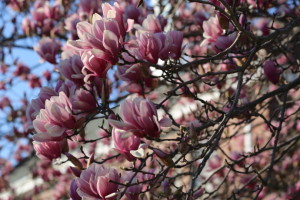 Homeschool in NJ Happenings for April 2016
I have written about Princeton Splash before, right over here. The registration is now open, and the actual even is going to be on April 30th in Princeton. If you have a high school aged student, I can't recommend this even more. It was fantastic last year, and my teen is looking forward to it this time around. Here is their WEBPAGE where you can register for the classes being offered.
The Learning Connection (TLC) is hosting a Used Curriculum Sale. You can register as a seller if you are a homeschooler.  Everyone is welcome to browse and purchase. The sale will go on on Tuesday, May 10th. More info can be found HERE.
Floyd Hall Arena is located in Montclair State University.  They offer skiing sessions for homeschoolers at a very reasonable price of $91.00 per session. Spring session starts on April 13th, and goes until May 25th. More Information here and here.
4. Rutgers University Geology Museum Field Trips
Rutgers University Geology Museum has a bunch of exciting field trips coming up.  There is a Ringing Rocks Field Trip on Sunday April 17th from 11 to 2 pm. There is also a Fossil Field Trip on Saturday, May 7th from 11 to 2 pm.  The Geology Museum also has several Late Nights coming up. The next Late Night is Egypt and it's on April 6th.  The following one will be Ice Age on May 4th. More info HERE.
While we are talking about rocks, there is a NY/NJ Mineral and Fossil show going on this coming weekend: April 8th to April 10th at the NJ Expo Center, Edison.
Arts Council of Princeton has some fantastic classes and events coming up, and they are always very welcoming to homeschoolers. If you are looking for an art class, I highly recommend you check them out.
Trilogy Repertory has auditions for "In The Heights" happening in Bernards Township Community Center, 289 South Maple Ave., Basking Ridge, on Monday, April 25: 7:30 pm to 9:30 pm l Wednesday, April 27: 7:30 pm to 9:30 pm, with Children (ages 10-14) Auditions: Sunday, May 1 from 6 pm to 7 pm. Check out more information HERE.
There are still a few more days to purchase tickets to the NJ Homeschool Prom.  The 'latecomer' tickets are available until April 8th, and are $82.65 per person.
Don't forget to register for Kids Bowl Free to receive 2 free bowling games per day for every child all summer long.
We love Bergen County Zoo. It is a wonderful, small, family friendly zoo, with a great playground nearby.  They also offer a myriad of classes for kids of various ages. Their Spring 2016 programming was recently released, you can check it out right HERE.
Glencairn Museum offers a homeschool day on April 26th from 9:30 to 11:00, and 11:00 to 12:30.  The children will be able to enjoy a life glass blowing demonstration given by a master craftsman. Reservations are required, and here is more information.
On April 13th, the Scotch Plains Library has two events that celebrate 400th anniversary of the death of William Shakespeare: Shakespeare Slam at 5 pm, and radio production of Macbeth at 6:30 pm. It is a wonderful library, and a great way to experience Shakespeare for any age.
13. South Mountain Co-op Classes For The Homeschool Community
South Mountain Co-op is offering some exciting classes to homeschoolers that are not regular attendees of the co-op. You can see the exciting listings HERE. There is make-up, math, science, jewelry making and more. They also have an open house coming up on April 5th at 6 pm.
Education Elsewhere and Harmony Homeschoolers are offering summer homeschool programs. Tuesdays 9 to 4:30 for 6 to 12 year old, and Thursdays 10 to 4 pm for 12 and up. Look HERE for more information.
Roxey Ballet has a Mother's Day weekend performances: Pied Piper of Hamelin and Carnival Of The Animals.  May 7th and 8th, at 1 pm.  The school performance takes place on May 6th. To reserve seats for your school (or homeschool) take a look HERE.
Somerset County 4-H Association is hosting a Spring Carnival on Saturday, April 23rd from 10:00am – 2:00pm at the Ted Blum 4-H Center located at 310 Milltown Road in Bridgewater.  The rain
date is Sunday April 24th (rain or shine). Everyone is welcome to attend, the price is $12.00 per participant.
Penn Museum offers fantastic programs for their Homeschool Days.  There are still several days of adventure left:
Date Wednesday 20 April 2016; Time 10:00AM – 3:00PM:
Archaeological Adventures: The Mediterranean World.
Date Wednesday 06 July 2016; Time 10:00AM – 3:00PM: Archaeological Adventures: Conservation and Museum Careers.
Date Wednesday 17 August 2016; Time 10:00AM – 3:00PM: Archaeological Adventures: Science and Technology.
NJ State museum offers live theater performances for children at an amazingly low price of $3.00. There are multiple performances coming up in March, April and May. More information can be found on their website.
Montclair Historical Society offers amazing classes for Homeschoolers.  Coming up is Craft Your Way Through History, and it's on Wednesdays and Fridays, on the following dates: May 18, 20, 25, & 27; June 1 & 3, at 10:30 to 11:30 am.  You can see more on their website.
Don't forget that every 2nd Thursday of the month there homeschool bowling at Howell Lanes from 12:30 to 2:30 pm. 
Here are a few details: $2.75 per game, shoes included.  You don't have to rsvp, just come and have fun.
Kids In The Park Summer Sessions Registrations are going to open on April 12th.  It is a fantastic program! Even if you choose not to register, make sure to attend a play or two.
If you have any nifty events you would like to add to the list for the next or this time, use the form below:
By submitting this form you are granting permission TheHappyHomeschooler.com to publish your event/gathering/other submission it on the publicly accessible website.  Your submission will be screened to make sure it is child and family friendly.  We reserve the right to decline submissions that do not meet the quality standards of TheHappyHomeschooler. Please note, your name and personal information will not be displayed.  Please don't submit events or gatherings that occur at individuals residences, those will not be added. Only events in and around NJ will be considered.
***Disclaimer: Please know that TheHappyHomeschooler is NOT affiliated with any of the schools, businesses or groups mentioned in this article. We are NOT being reimbursed for anything said here. All the opinions are ours alone and do not reflect the opinions of the organizations mentioned here, unless explicitly stated otherwise. ***